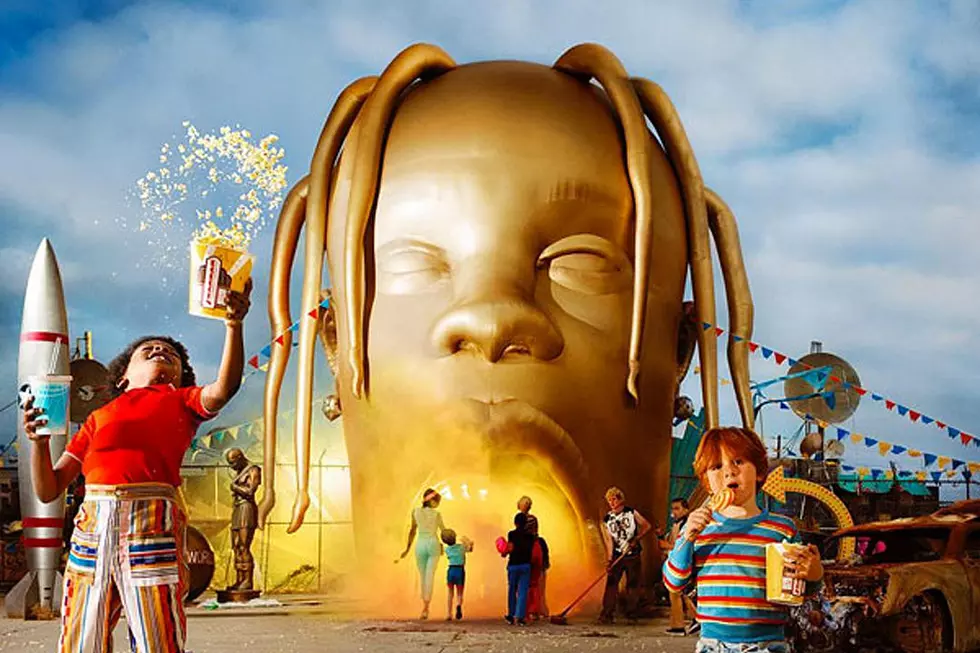 Travis Scott 'Astroworld' Album: 20 of the Best Lyrics
Epic Records
After leaving the rap world in a state of anticipation for his next solo project over the past two years, Travis Scott returns with Astroworld, the rapper's third studio album and one of the biggest rap projects of 2018. Travis' first release since his wildly successful sophomore album Birds in the Trap Sing McKnight arrives as the notorious rager adjusts to fatherhood and a high-profile relationship, however, his parental duties and the paparazzi has not tamed LaFlame's flair for the dramatic.
Inspired by Houston's now defunct Six Flags AstroWorld theme park (which closed in 2005), Travis Scott's latest long player finds the rapper paying homage to his roots while stretching the limits of his artistry over the course of 17 songs. First announcing Astroworld's impending arrival via Twitter, Travis Scott really caught the attention of the music world when giant gold heads bearing his likeness began popping up at random landmarks in New York City, Los Angeles, Houston and Atlanta, adding to the buzz surrounding the album.
Packing features from heavyweights like Drake, Frank Ocean, The Weeknd, Migos, Swae Lee, as well as contributions from Mike Dean, Hit-Boy, Boi-1da, Frank Dukes, Sonny Digital, WondaGurl, Wheezy, Murda Beatz and an array of other producers, Astroworld is star-studded affair that showcases Travis Scott at the height of his powers.
With La Flame's new release hot off the presses and in heavy rotation, XXL gave the album a few spins and picked out 20 of the best lyrics from Astroworld that has our rewind buttons doing overtime.
"Niggas femalin', they excellin'/Are they intelli'?/We propellin', up top with Ellen, uh/Kill the jealous with propane repellent/Got me goin' crazy/On tour, we'll tell 'em, we brought the section/They keep on callin' up, it's getting hectic like we projected/So we cut the plug, he's interjected " —Travis Scott

"'99, took AstroWorld, it had to relocate/Told the dogs I'd bring it back, it was a seal of faith/Before no car, those baby girls, she played the tourist guide/Got the keys into my city, now she know the rides/Got new money, got new problems, got new enemies/When you make it to the top, it's the amenities/Packin' out Toyota like I'm in the lead/And it ain't a mosh pit if ain't no injuries" —Travis Scott

"I got 'em stage divin' off the nose bleeds/And she hit that booger sugar 'til her nose bleed/Bounce that shit forever, she on both knees/She was talkin' 'bout forever got a whole week/But she know my baby mama is a trophy/She be throwing up them B's feel like we both bleed/She keep my dick jumpin up, feel like I'm Moby/I'm way too gold for this beef, feel like I'm Kobe" —Travis Scott

"Sicko Mode"

Travis Scott Featuring Juicy J, Swae Lee and Drake

"Was off the Remy, had to Papoose/Had to hit my old town to duck the news/Two-four hour lockdown, we made no moves/Now it's 4 a.m. and I'm back up poppin' with the crew/I just landed in, Chase B mixes pop like Jamba Juice/Different colored chains, think my jeweler really sellin' fruits/And they chokin', man, know the crackers wish it was a noose" —Travis Scott

"Sicko Mode"

Travis Scott Featuring Juicy J, Swae Lee and Drake

"This shit way too formal, y'all know I don't follow suit/Stacey Dash, most of these girls ain't got a clue/All of these hoes I made off records I produced/I might take all my exes and put 'em all in a group/Hit my eses, I need the booch/'Bout to turn this function to Bonnaroo/Told her 'hop in, you comin' too'/In the 305, bitches treat me like I'm Uncle Luke" —Travis Scott

"Sicko Mode"

Travis Scott Featuring Juicy J, Swae Lee and Drake

"It's absolute, yeah, I'm back reboot/LaFerrari to Jamba juice, yeah/We back on the road, they jumpin' off, no parachute, yeah/Shorty in the back, she said she workin' on her glutes, yeah/Ain't by the book, yeah/This how it look, yeah/'Bout a check, yeah/Just check the foots, yeah/Passes to my daughter, I'ma show her what it took/Baby mama cover Forbes, got these other bitches shook" —Travis Scott

"No Bystanders"

Travis Scott Featuring Sheck Wes and Juice Wrld

"Bicentennial man/Put the city on slam/She get trippy off Xans/Lost 21 grams/And she did it on cam/Wasn't no video dance/Make my own rules/I really don't pick, I just choose/I don't send pics, I just shoot/Chopper gettin' screwed/I told her it's B.Y.O.B., that mean buy your own booze" —Travis Scott

"Skeletons"

Travis Scott Featuring The Weeknd

"We just rocked Coachella, I gave her half of the check/It was good sex, honorable mention to the net/Didn't pass the loud, that was out of respect/Afterwards, pass the towel, I was out of Kleenex/If you take your girl out, do you expect sex?/If she take her titties out do you expect checks/First visit, I gave her a pearl necklace/Next visit, I'ma need your girl naked" —Travis Scott

"Who's that creeping through my window?/Before you come outside I got the M4/Took her to the endzone from the ends, though/Know I love to smoke, you love to lick more/Wanna hit the Jack then what you call for?/All that out your new shit that ain't called for/Who that creepin' know the tint is dark/All that fall in love shit, got it Kevin Hart/All that speed and flash shit, we might teleport/All that cop arrest shit, I might might clip a sarge" —Travis Scott

"Who the fuck is this?/That's somebody baby mama inside of the Benz/While I'm tryna tip/Shawty said she holding got a razor in her lip/Mix my cup and twist one up, I love that ratchet shit/She like 'I-I-I-I-Iced out wrist, iced out, iced out wrist'/Fuck don't kiss, fuck she fuck don't kiss/Look like friends, but she say they twins/Jump right in, there's leg room in this Benz" —Travis Scott

"NC-17"

Travis Scott Featuring 21 Savage

"Had to buy a visa, she from Moscow/Fuckin' 'round with Travis, you get crossed out/He used to be on, that nigga off now/I done got so rich, I Saint Laurent my dogs now/Earrings cost a quarter certified by GIA/If it's 'bout my bae or 'bout some smoke I'm on my way/Your bitch gave the kid Cudi but I'm not signed to 'Ye/I nutted on her cheek, her new nickname is Baby Face" —21 Savage

"Yosemite"

Travis Scott Featuring Nav and Gunna

"Two-tone Patek/Fendi clipboard like I Uber the jets/VVS's on me got my Gucci shirt wet/Put a M in my bag, I'ma get used to these racks/I went to school where they teach you finesse/500 shells for the drip I invest/I'm the boss man, I keep cash in the desk/Know the coupe fast when they end with a S" —Gunna

"Can't Say"

Travis Scott Featuring Don Toliver

"No you can't say if I'm mad or not/Smoking hella weed, I'm on that alcohol/Shawty lick me clean the way she suck me off/I keep two hoes in my bed, I got 'em turning out/What would you do if you heard I got it going on?/I had to burn, I left skrt marks, I had to dip/Gotta watch for 12, 'round my town you might get killed/I'm out my mind, yeah I'm high above the rim/You cop it live, boy I got in on film" —Don Toliver

"Can't Say"

Travis Scott Featuring Don Toliver

"You must be cautious, told the lil' hoes I'm all in/Play this ballers offense, I left ol' girl, she callin'/You know I hit in morning, oh yeah she yawning/I met you in the club, bitch you know this shit mean nothing/Oh, then I hit your cousin, mhm, no-no discussion/Sipping on lean, no Robitussin/Oh yeah, I know you love me, I beat it ain't no cuddling/You down bad, you suffering" —Don Toliver

"Who? What!"

Travis Scott Featuring Quavo and Takeoff

"In the Hills but still keep them ghetto ties/Was talkin' Frenchy's but she thinkin' Ocean Prime/Know she keep an open mouth and open mind/I don't open up her door, she open mine/I need less stress and I need more ties, yeah/We on the jet quest, mobbin' with the drop, yes/In the headrest one of 25, yes/Ain't seen the best yet, open up your eye" —Travis Scott

"Who? What!"

Travis Scott Featuring Quavo and Takeoff

"I picked my favorite dancer I done pay her rent/At Christmas time it's no Saint Nick we got the Grinch/I smack that ass she threw it back in self-defense/We took the crib, flood the backyard like it's the beach/We did some things out on the ways that we can't speak/All I know it was 'Mo Bamba' on repeat/I don't think these things I took is helpin' me" —Travis Scott

"Who? What!"

Travis Scott Featuring Quavo and Takeoff

"Was born in the movie/Never make excuse/It was time to move it/It was God and the uzi/We were trained to use it/They was trained to use it/Shoot you like Cupid/Hit your medulla" —Quavo

"Butterfly Effect"

Travis Scott

"Drop the top, play hide and seek/Jump inside, jump straight to the league/Take a sip, feel just how I breathe/On freeway, but no, ain't nothin' free/Bend laws, bend lanes/Been bustin' bills, but still, ain't nothin' change/You in the mob soon as you rock the chain/She caught the waves just thumbin' through my braids" —Travis Scott

"Butterfly Effect"

Travis Scott

"All the ones, all the chains piled on the mantle/All the dogs, all the dogs low creep right behind me in the Phantom/Yeah, never go, never go dip on the set, stayed Santana/Yeah, run it back, turn the lights on when I hit up Green Lantern/Yeah, fly the broads, fly the dogs down to Atlanta/Yeah, in the cut in Medusa, lay low, yeah, I might be/Yeah, roll up, help me calm down when I'm movin' high speed/Yeah, if I send one, need to text back 'cause you know what I need" —Travis Scott

"Houstonfornication"

Travis Scott

"It ain't easily done, it ain't easy/Pop a seal like it's Chris, make it look Breezy/Wedding bands on my fist, it is freezing/Throw the bands get a kiss, then she leave me/I just want the peace, it's still Lambo' over Mercedes/Just built the Astroworld playground to play with my baby, yuh/Had a few pop singers, anyone could be yo' mama/Had some real conversations with my nigga, Bill, about congress" —Travis Scott