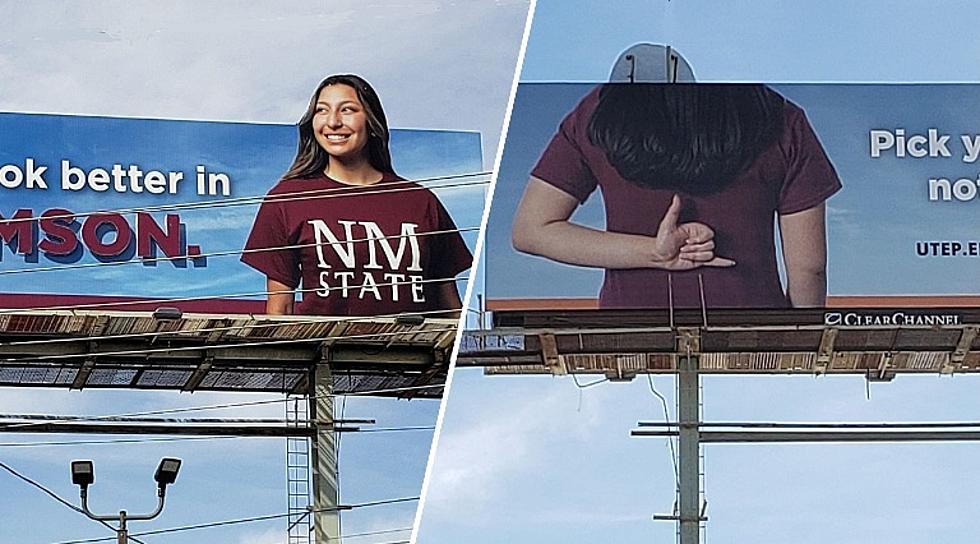 Bickering Billboards Take Texas, New Mexico Rivalry to the Skies
mike
The University of Texas at El Paso and New Mexico State University in neighboring Las Cruces have been rivals for as long as I've lived in El Paso and I got here in 1985.
Sure, The Battle of I-10 has lost some of its luster over the years, but it's still kind of a big deal to the students of both schools.
And now the rivalry has gone from the gridiron and hardwood court to the streets. Let me introduce you to the Battle of the Billboards.
The Backstory
For the last couple of months NMSU has been throwing some good-natured shade at UTEP in the form of a billboard on N. Mesa near the UTEP campus.
It features a smiling young woman in a NM State t-shirt with the message, "You'd look better in crimson." A reference to UTEP's orange and white school colors. Crimson and white are NMSU's official colors.
It's taken a while for UTEP to clap back but oh what a comeback. More of smack down, really.
UTEP's Response
UTEP's response was to wait for the back of the billboard the NMSU advertisement is on to become available and hit back with its own message.
UTEP's billboard portrays a young woman flashing the Miner pick axe hand sign behind her back with the message, "Pick your future, not a color." Oh, snap!
Even NMSU's Associate Vice President of Marketing and Communications had to hand it to the Miner's marketing team, telling a local news station the response was "well played."
Your move, NMSU. But let me get my popcorn first.
25 Times Celebrities Clapped Back at Fans