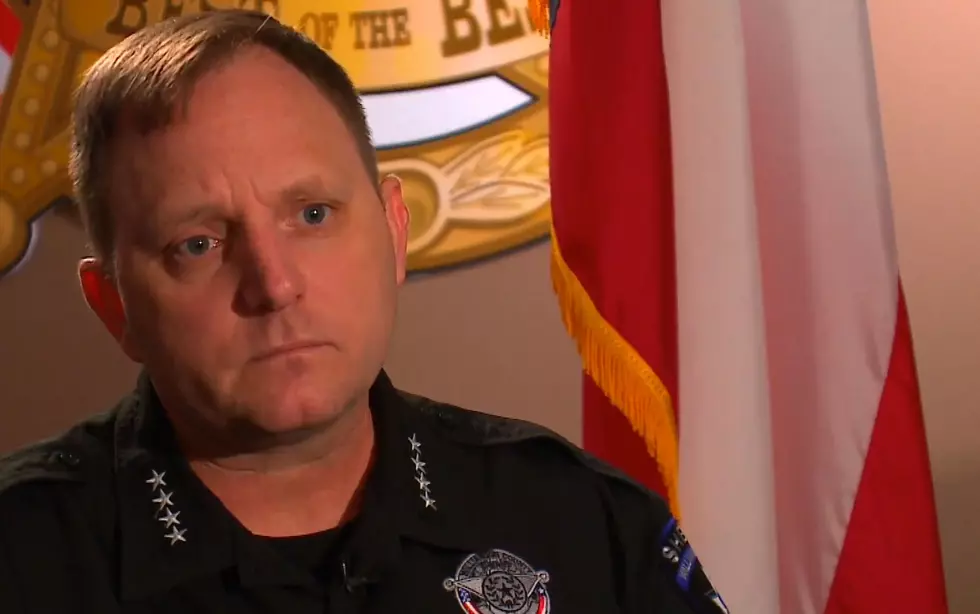 Williamson County Sheriff Robert Chody Indicted on Evidence Tampering Charge
Williamson County Sheriff Robert Chody - KXAN-TV
Williamson County Sheriff Robert Chody and County Attorney Jason Nassour have been indicted on 3rd degree felony charges of evidence tampering.
The charges stem from the destruction of raw footage of the chase, arrest, and death of Javier Ambler last year. Ambler, 40, was driving home on the night of March 28, 2019 when police began pursuing him for not having dimmed his headlights to oncoming traffic. Ambler reportedly refused to stop, and a 22-minute chase ensued until his vehicle crashed in Austin.
KVUE-TV reports that Williamson County Deputies J.J. Johnson and Zach Camden used tasers on Ambler during a struggle, and that Ambler shouted that he had a heart condition and was having difficulty breathing. Ambler died at the scene. His family told KEYE-TV Ambler was trying to make it to a hospital.
---
---
A camera crew with TV show Live PD captured the encounter on video. However, that footage was destroyed two months later, reportedly with the consent of the Williamson County Sheriff's Office. The Austin American-Statesman reports that investigators instead relied on bodycam footage from an Austin PD officer who arrived at the scene after Ambler's crash.
USA Today reported that the contract between Williamson County and Live PD's producers at the time of Ambler's death allowed for the destruction of footage within 30 days unless a court order or law required it be retained. Many have questioned why Williamson County Sheriff's Office officials did not request the footage be preserved and released.
The Statesman reports that Chody turned himself in at the Williamson County Jail Monday morning. Jail records indicate he has been released after posting $10,000 bond. The charge on his jail roster listing is 3rd degree felony "tamper/fabricate phys evid w/intent to impair".
---
---
Jail records did not indicate that Nassour had been booked as of early Monday afternoon.
Ambler was an Ellison High graduate, an Army veteran, and a father of two. KVUE reports that the most serious charge he would have faced had he not died would have been evading arrest.
Enter your number to get our free mobile app
Here are some tips for self-care during the pandemic: