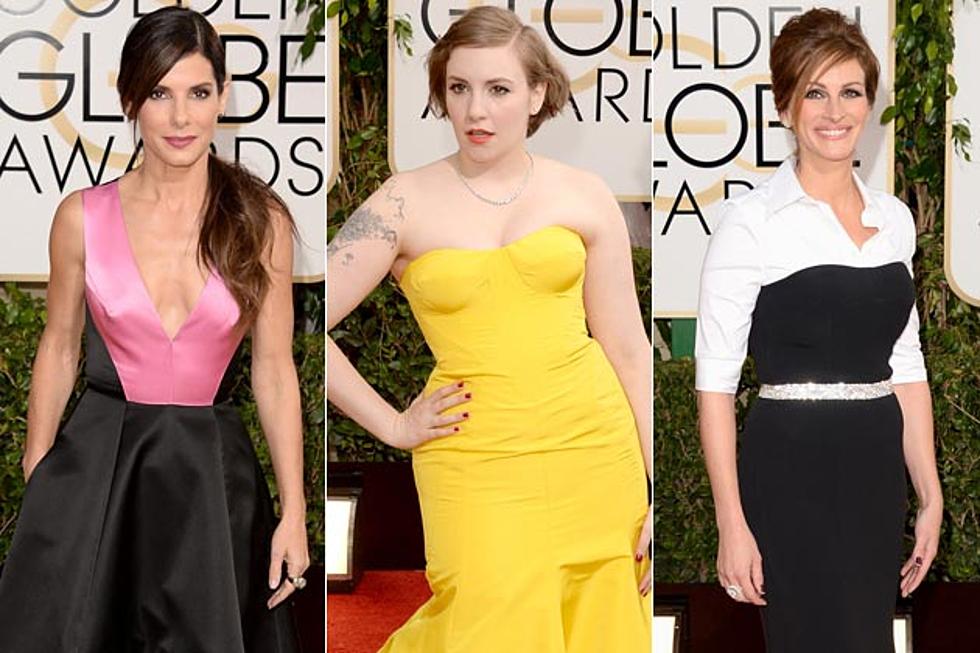 Worst Dressed at 2014 Golden Globes [PHOTOS]
Jason Merritt (3), Getty Images
Let us start by saying that we love, love, love all of the celebs that unfortunately landed on our 2014 Golden Globes Worst Dressed list. Not every outfit or ceremony yields home runs, though. It's a fashion fact of life.
Some of these dresses missed the mark slightly or had some endearing qualities, but just didn't work for us overall, in terms of presentation or styling.
Without further adieu, here are PopCrush's picks for the dresses and attire we liked the least at the Globes (Jan. 12).
Sandra Bullock's tri-colorblocked, pocketed Prabal Gurung was daring and different -- and a bit much.
From the front, Emma Watson's tangerine Dior Couture dress, rife with slits, seemed sweet. Seemed...
From the back, we were totally confounded... by the pants. Why? At another, less formal ceremony, this might have worked.
Julia Roberts sort of did the menswear trend with her black and white Dolce & Gabbana dress. It felt a bit casual, and the top was like a tailored shirt, but turnt up.
The newly-married Kaley Cuoco's floral Rani Zakhem had a sexy, bustier top but a muddy color and a granny print.
Joanna Newsom, a normally stylish singer and wife of Andy Samberg, looked like a southern belle bridesmaid. It was too fussy and frilly, and the styling was not modern.
Lena Dunham has said she is not comfortable on red carpets, and while we applaud her for going with a bright, lemon yellow shade, her corset-top, mermaid-silhouette Zac Posen was ill-fitting. Love that pose she is striking, though!
OK, we wrestled with this one. Zooey Deschanel is uber cute, but her pearl-encrusted, Oscar de la Renta dress was shapeless and felt a bit "old" for someone so fresh and young. The embellished bottom competed with the strangely cut top and shoes. It was TMT -- too much texture.
Paula Patton is gorgeous, but this Stephane Rolland Couture dress did nothing for her. The off-white hue and the fact that it looked like she had a fabric tumor growing on one half of her body made it a huge miss. She'd have looked better in her hubby Robin Thicke's Foot Locker employee zoot suit, which he wore to the 2013 VMAS.