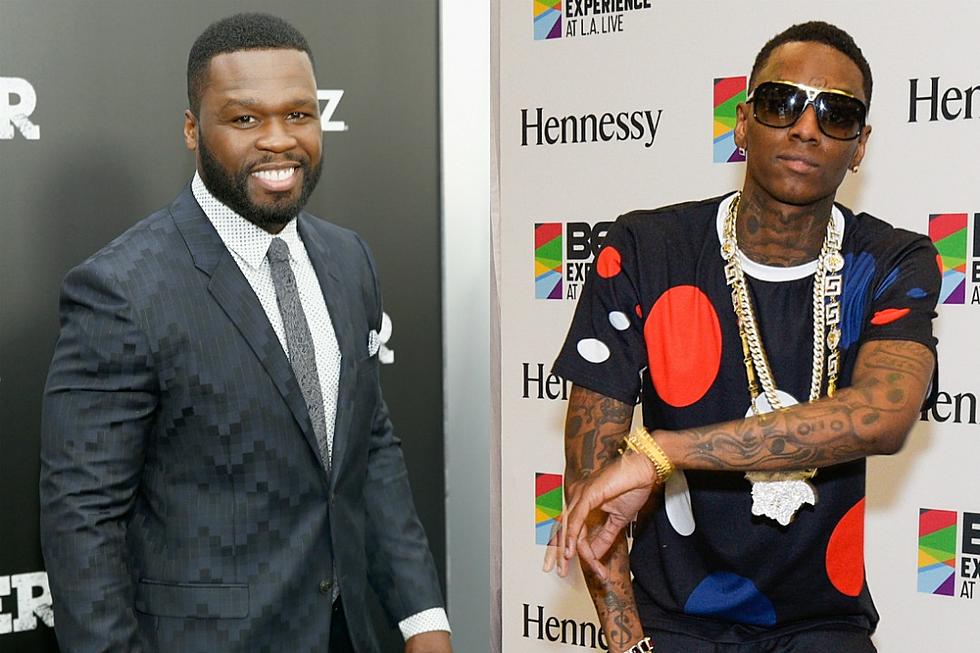 50 Cent Claims Soulja Boy Got Robbed in Los Angeles
Brian Ach / Noel Vasquez, Getty Images
The Chris Brown vs. Soulja Boy saga has taken another strange turn as 50 Cent claims that Soulja Boy has been robbed in Los Angeles. The G-Unit leader went on Instagram to share the news and assure his followers that the boxing match with Brown would still happen.
"Soulja boy just got Robbed in LA, don't worry 😆ya big homie Floyd can buy you another chain," 50 Cent wrote. "But you bet not call POLICE little man. #thefightstillon LMAO."
50 was not very concerned about Soujla Boy's wellbeing as he kept his attention on the celebrity boxing match. In an Instagram video, 50 said the fight was still on and criticized Floyd Mayweather for training Soulja Boy instead of strictly promoting the bout.
"So, Soulja Boy just got robbed in L.A. That doesn't mean the fight is off," 50 Cent said. "The fight is still on. He don't got no choice. He gotta fight now. Right? See Floyd's supposed to be training him, but I kinda feel like Floyd wants to train him just so he can beat me. How you gonna just train this nigga all of sudden? You is the promoter. You not supposed to be training the fighter for him to fight the other fighter now, champ. But since you got Floyd Mayweather, I just got off the phone with 'Iron' Mike Tyson. So, 'Iron Mike' is gonna train Chris Brown. Now we gon' see cause this is gonna be a show. When I put on a show, I put on a show, baby. You got to watch me."
The Mike Tyson news adds a whole new wrinkle to this unexpected fight since former world champ Adrien Broner was said to be training Brown. With Tyson involved, the star power behind this bout has only grown bigger.
133 Rapper-Launched Record Labels From the Past and Present