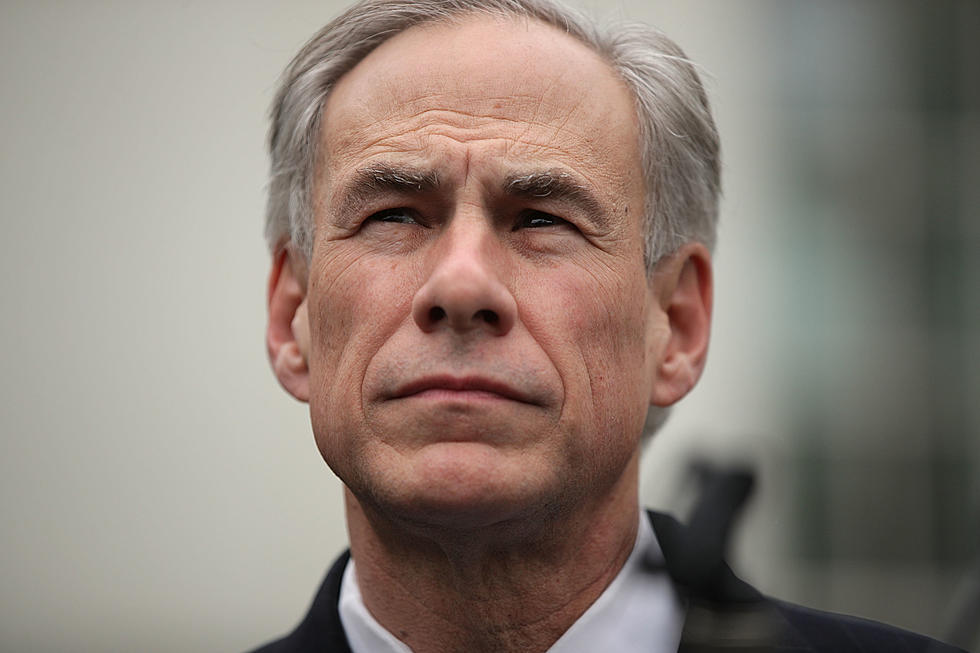 A Poll Shows That Some Texans Aren't Liking The Job Governor Abbott Is Doing
Getty Images
Could it be the way the governor handled the horrible snowstorm of 2021, or our state dragging its feet on fixing the power grid under his stewardship?
Perhaps the signing of the new controversial voting law?
Or maybe it was the way the governor responded to Covid-19?
Whatever the reasons are, his approval ratings have fallen to an all-time low according to a Texas Politics Project Poll.
ABC Austin reports that 41% of the respondents either strongly or somewhat approve of his time in office, while another 41% of respondents disapprove strongly of Abbott.
50% disapproved of him either somewhat or strongly, and the remaining respondents didn't know or didn't approve either way.
Of the Democrats, 6% strongly approve Abbott's time in office.
83% disapprove strongly of the job he's done, while 79% of his own party, the Republicans, approved of his job performance.
The governor was also polled on his response to COVID-19, and only 39% of those polled approved of it.
In my opinion, he may have some issues he may have to deal with if he's looking to be re-elected here in the Lone Star State.
Governor Abbott's not the only one who's seen his numbers slide. Lieutenant Governor Dan Patrick is also down in the polls.
The Texas Tribune and the University of Texas have released their quarterly polling of Texas voters. The numbers show that 42% of Texans disapprove of his job performance. That may not seem like such a dangerous number, but it's an 11 point slip since 2018 when he nearly lost re-election.
The Tribune/UT poll showed 52% of voters feel the state is headed in the wrong direction, and that COVID-19 may be the biggest factor in the sentiment.
What do you think of Abbott and Patrick's performance?
Here Are 10 Killeen Airbnb's To Check Out
Did you know that Killeen had some nice AirBnb's?? Here are a few to check out and recommend to others that come to Texas to visit you!
25 True Crime Locations: What Do They Look Like Today?
Below, find out where 25 of the most infamous crimes in history took place — and what the locations are used for today. (If they've been left standing.)
Texas' Top 15 Pro Athletes from the Past 25 Years in No Particular Order
Texas' Top 15 Pro Athletes from the Past 25 Years in No Particular Order
These are, in my opinion, the Top 15 Professional athletes from the past 25 years.
Of course, we'll start with the Dallas Cowboys (of course we will) and go from there.
The NFL's most prized franchise won 3 World Championships in the 1990s in 1992, 1993, and 1995.
Those teams saw numerous Hall Of Fame coaches and players from Jimmy Johnson, Troy Aikman, Emmitt Smith, and Michael Irvin.
You can't forget about the dynasty the San Antonio Spurs had that started in the late 90s and came into the 200s as an NBA Powerhouse winning 5 NBA Championships led by players such as David Robinson, Tim Duncan, Manu Ginobli, Tony Parker, and in their later years Kawhi Leonard.
What about that 2011 Dallas Mavericks team that gave Dallas their first-ever NBA Championship under the leadership of Dirk Nowitski, Jason Kidd, Jason Terry and company?
We definitely can't deny new superstar Luka Doncic and the Mavericks of today inching closer and closer to becoming a dominant West Coast Team.
I would be foolish not to mention those Houston Rockets teams that repeated as NBA Champions in the mid-90s, (I did say past 25 years right?) and the James Harden led team, who along with Chris Paul boosted the Rockets to the playoffs year after year ultimately leading them to the Western Conference Finals.
Here are my top 15..