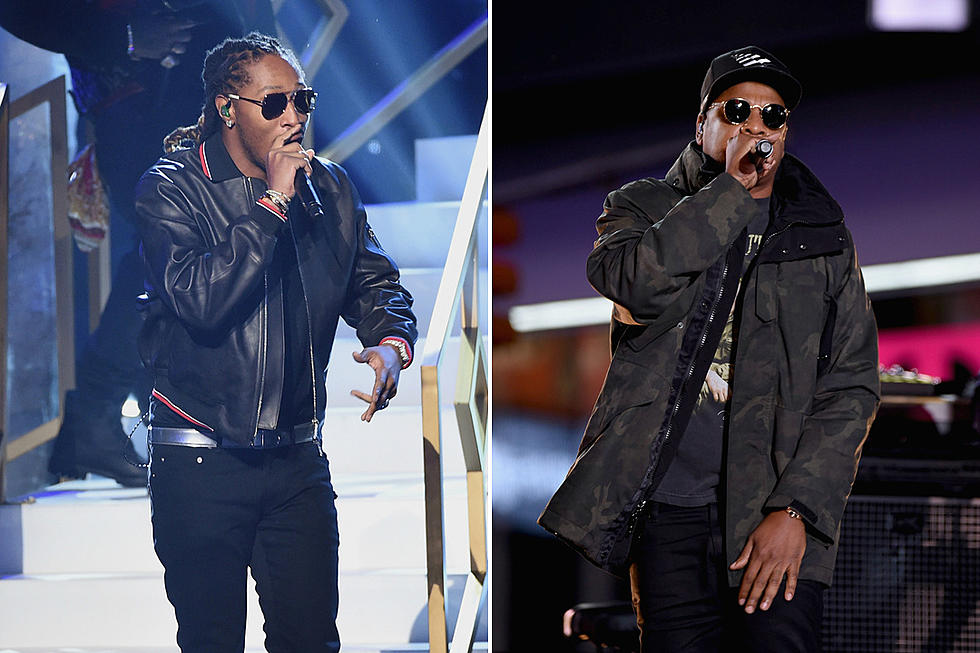 Future Doesn't Think Jay Z's 'Reasonable Doubt' Was Hot Until Tupac Shakur and The Notorious B.I.G. Died
Kevin Winter / Gary Gershoff, Getty Images (2)
Update (Dec. 15, 8:10 p.m. EST):
After Future's comments caused a storm on social media, the videos have been taken down from the original Instagram accounts. Future responded to the controversy Thursday night:
Hip-hop executive Steve Stoute shared a few videos of some conversations with an interesting group of people. Future, LeBron James, James Harden and Hot 97's Ebro Darden were among the men involved in the barbershop discussion. In one video, which you can see above, Future argues that Jay Z's classic album Reasonable Doubt was not popular until Tupac and The Notorious B.I.G. died.
"It wasn't hot until they died," Future says about the album. "Nobody really was jamming it. It's flames. Like it's hard, it's a classic, but I'm saying at that time."
Future claimed that Jay Z "wasn't great" when Tupac and The Notorious B.I.G. were alive. The Atlanta rapper cited Biggie, Tupac and Ice Cube as the top rappers of that era. Future also spoke highly of Nas, stating that Illmatic was highly regarded upon its release, which was not the case with Jay Z and Reasonable Doubt.
"It's like your classic album, they always go back for your classic album," Future said. "When Nas dropped his first album, it was great then. Like when 'I Ruled the World' came out, it was the best then. You had to go back and listen to Reasonable Doubt. That's his best shit ever."
You can view some of the other conversations below. Future's takes might make his next performance of "I Got the Keys" with Hov a little awkward, even if the "March Madness" rapper'sgot a point.
134 Rapper-Launched Record Labels From the Past and Present