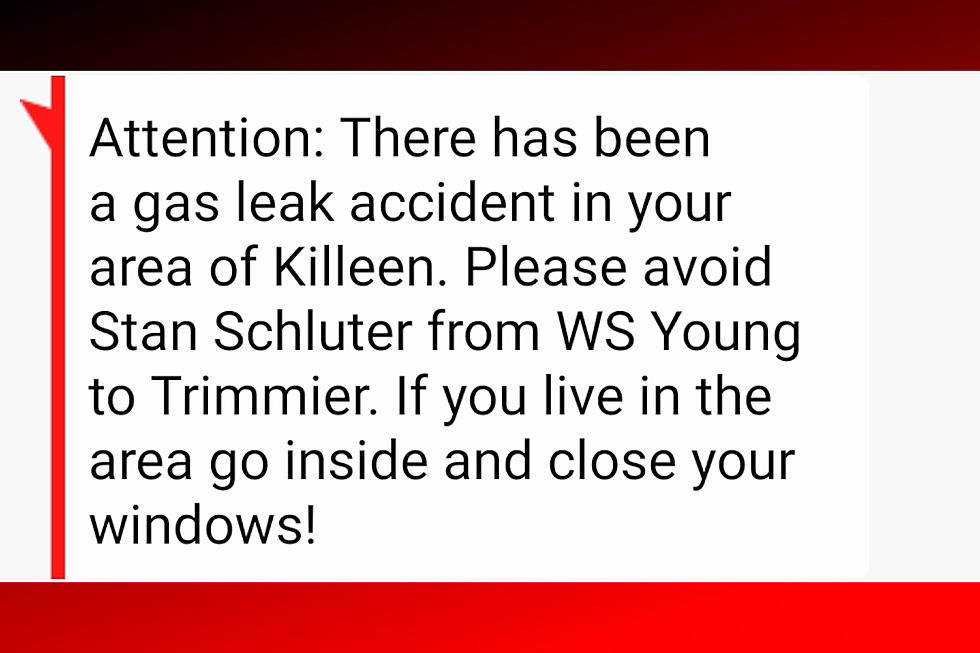 Gas Leak Reported on Stan Schlueter Near Lion's Club Park in Killeen
City of Killeen, TSM
UPDATE: Our employee received a follow-up text reporting that the gas leak has been stopped. Drivers should still be cautious and watchful in the area and drive around it if at all possible. Expect heavy traffic in the area as the scene is cleared.
---
The City of Killeen was advising residents to avoid the area of Stan Schlueter from WS Young Drive to Trimmier Road due a gas leak.
Around 10:22 AM, one of our employees who lives in Killeen received an alert via text message warning her of the leak:
Attention: There has been a gas leak accident in your area of Killeen. Please avoid Stan Schluter (sic) from WS Young to Trimmier. If you live in the area go inside and close your windows!
In a Facebook live report from near the scene (embedded below), Killeen Daily Herald reporter Lauren Dodd said a car had rolled. Dodd said ATMOS was on the scene, and that roads had been closed between Trimmier, Stan Schleuter, and Lion's Club Park. Dodd said nearby businesses had been evacuated, and that  no injuries had been reported as of the time of her report.
The City of Killeen has advised the public was being advised to avoid the area, so if your daily route takes you through that area, please find a way around until repairs are complete. People living and working nearby were asked to remain inside windows closed until further notice.
We'll bring you more information as it becomes available.
---
---
---
How Many in America: From Guns to Ghost Towns
Can you take a guess as to how many public schools are in the U.S.? Do you have any clue as to how many billionaires might be residing there? Read on to find out—and learn a thing or two about each of these selection's cultural significance and legacy along the way.