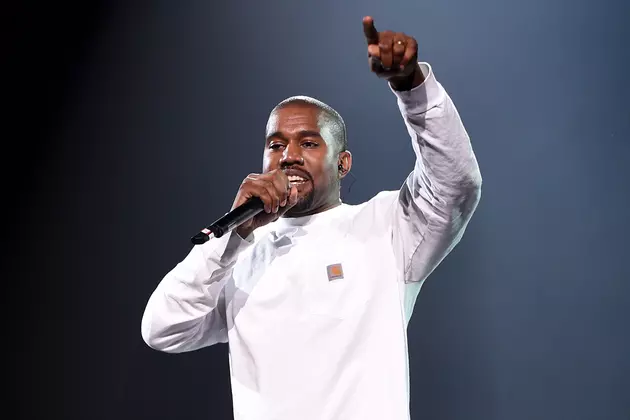 25 Most Quotable Lyrics From Kanye West's Albums
Dimitrios Kambouris, Getty Images
There are few rappers that have given us as many quotables as Kanye West. From his interviews to his onstage rants and most importantly his music, he has always had an intrinsic ability to put his streams of consciousness into quotes that are nothing short of scripture-worthy. His technical rap skills might not be as refined as a Nas or Jay Z but what Kanye does bring tenfold is delivery and the willingness to push the envelope at every turn. Whether it's expressing an emotion of frustration, a feeling of compassion, shedding a bit of inspiration or just simply letting off a crazy clever bar, Kanye has said it all -- for good reason.
His best quotables, however, do in fact come from his solo music. As much as we love to see him spazz out at Nike, the fashion industry and, most recently, Kid Cudi, those are one-offs that don't stand the test of time. Kanye's real genius lies within his well-written, better executed, premeditated bars that make up the lyrics to his catalog of hits and deep cuts.
Putting his handful of loosies and collab album with Jay-Z on ice, we decided to take a look at some of the most quotable lyrics he spits on his solo albums. These quotes are guaranteed to stimulate your mind whether you praise Yeezus or not and will undoubtedly make you rewind the track for good measure. In no particular order, here are 25 quotables from Kanye's seven critically acclaimed solo works.
1

"Through the Wire"

Kanye West

"But I'm a champion, so I turned tragedy to triumph/Make music that's fire, spit my soul through the wire"

2

"I went to the malls and I balled too hard/Oh my god, is that a black card?/I turned around and replied, 'Why yes/ But I prefer the term African American Express'"

3

"All Falls Down"

Kanye West Featuring Syleena Johnson

"I want to act ballerific like it's all terrific/I got a couple past-due bills, I won't get specific/I got a problem with spending before I get it/We all self-conscious, I'm just the first to admit it"

4

"Well if this take away from my spins/Which'll probably take away from my ends/Then I hope this take away from my sins/And bring the day that I'm dreamin' about/Next time I'm in the club, everybody screamin' out"

5

"Gone"

Kanye West Featuring Cam'ron and Consequence

"Damn 'Ye it'd be stupid to diss you/Even your superficial raps is super official"

6

"I think we at an all-time high/To get there, we run, we fly, we drive/'Cause with my family we know where home is/And so instead of sending flowers, we're the roses"

7

"Touch the Sky"

Kanye West Featuring Lupe Fiasco

"I'm trying to right my wrongs/But it's funny them same wrongs helped me write this song"

8

"Diamonds From Sierra Leone (Remix)"

Kanye West Featuring Jay Z

"Though it's thousands of miles away/Sierra Leone connects to what we go through today/Over here it's a drug trade, we die from drugs/Over there they die from what we buy from drugs"

9

"When it feel like living's harder than dying/For me giving up's way harder than trying"

10

"Flashing Lights"

Kanye West Featuring Dwele

"She don't believe in shooting stars/But she believe in shoes and cars"

11

"Can't Tell Me Nothing"

Kanye West

"I had a dream I could buy my way to heaven/When I awoke, I spent that on a necklace/I told God I'd be back in a second/Man, it's so hard not to act reckless"

12

"Good Life"

Kanye West Featuring T-Pain

"I always had a passion for flashin'/Befo' I had it, I closed my eyes and imagined, the good life"

13

"Homecoming"

Kanye West Featuring Chris Martin

"Reach for the stars so if you fall, you land on a cloud/Jump in the crowd, spark your lighters, wave 'em around/If you don't know by now, I'm talking 'bout Chi-Town"

14

"My big brother was B.I.G.'s brother/So here's a few words from ya kid brother/If you admire somebody you should go on 'head tell 'em/People never get the flowers while they can still smell 'em"

15

"Street Lights"

Kanye West

"So I hopped in the cab and I paid my fare/See I know my destination, but I'm just not there"

16

"In the night I hear them talk/The coldest story ever told/Somewhere far along this road/He lost his soul/To a woman so heartless"

17

"Screams from the haters, got a nice ring to it/I guess every superhero need his theme music"

18

"Runaway"

Kanye West Featuring Pusha T

"Let's have a toast for the douchebags/Let's have a toast for the assholes/Let's have a toast for the scumbags/Every one of them that I know/Let's have a toast for the jerk-offs/That'll never take work off/Baby, I got a plan/Run away fast as you can"

19

"So Appalled"

Kanye West Featuring Jay Z, Pusha T, CyHi Da Prynce, Swizz Beatz and RZA

"Niggas be writing bullshit like they gotta work/Niggas is going through real shit, man, they out of work/That's why another goddamn dance track gotta hurt/That's why I'd rather spit something that got a purp'"

20

"All of the Lights"

Kanye West Featuring Rihanna

"I'm heading home, I'm almost there/I'm on my way, heading up the stairs/To my surprise, a nigga replacing me/I had to take him to that ghetto university"

21

"My momma was raised in the era when/Clean water was only served to the fairer skin/Doin' clothes you would have thought I had help/But they wasn't satisfied unless I picked the cotton myself"

22

"Bound 2"

Kanye West Featuring Charlie Wilson

"I'll turn the plane 'round, your ass keep complainin'/How you gon' be mad on vacation"?

23

"Blood on the Leaves"

Kanye West

"She Instagram herself like #BadBitchAlert/He Instagram his watch like #MadRichAlert"

24

"FML"

Kanye West Featuring The Weeknd

"I been thinking/About my vision/Pour out my feelings/Revealing the layers to my soul"

25

"Famous"

Kanye West Featuring Rihanna

"The sun is in my eyes, whoo!/Woke up and felt the vibe, whoo!/No matter how hard they try, whoo!/We never gonna die"