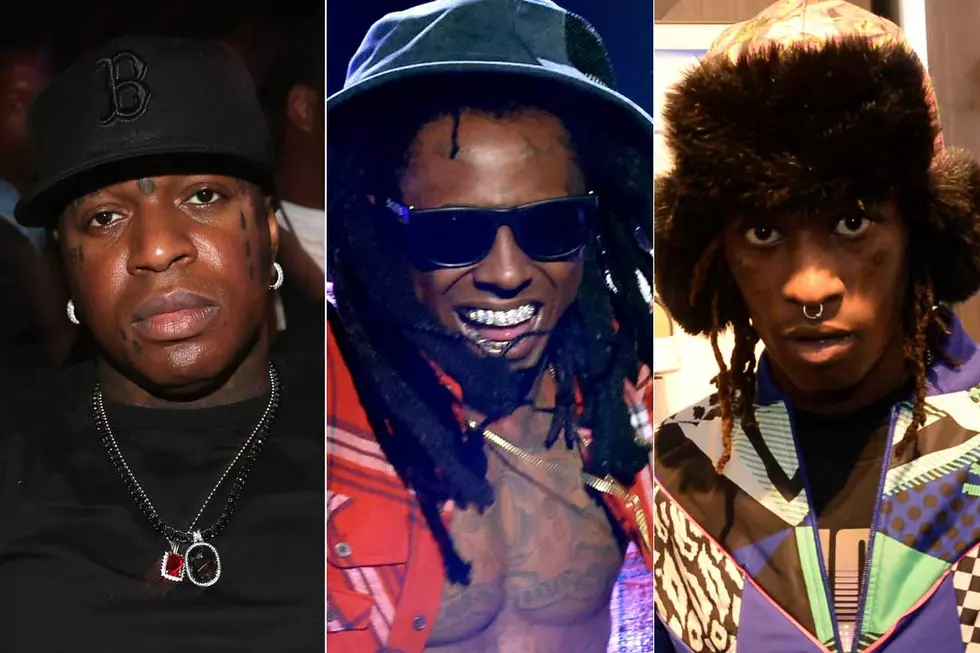 Lil Wayne's Former Bus Driver Suing Birdman, Young Thug & Peewee Roscoe Over Highway Shooting
Christopher Polk / Kevin Winter / Rick Diamond, Getty Images
Lil Wayne's former tour bus driver is suing Birdman, Young Thug and Peewee Roscoe for their alleged involvement in a 2015 highway shooting of Weezy's tour bus he was driving.
According to Courthouse News, Alvin Lewis filed a lawsuit on Nov. 16 for assault and battery, interference with a business relationship and infliction of emotional distress. The suit stems from the April 2015 shooting in which Peewee Roscoe, who was Young Thug's manager at the time, got into a confrontation with Lil Wayne's crew at an Atlanta show and then shot up Weezy's tour bus while it was on the highway leaving the venue.
Lewis claims in his suit that before and after the shooting, Roscoe allegedly placed calls to Young Thug and Birdman, and neither of them "repudiated Winfrey's heinous acts."
Although nobody on the bus was injured during the incident, the vehicle suffered $20,000 in damages. However, following the shooting, Lewis claims that he "has suffered and continues to suffer substantial and continuing pain, anguish, suffering, discomfort, medical expenses, lost personal and professional property, and lost wages."
"Defendants placed plaintiff in immediate fear of death and severe bodily harm by attacking and attempting to kill him without any just provocation or cause," the complaint states.
Lewis is seeking an unspecified amount of damages for his pain and suffering and is represented by New York City-based attorney Jeffrey Gewirtz.
Attorneys for Birdman, Young Thug and Peewee Roscoe had no comment on the matter.