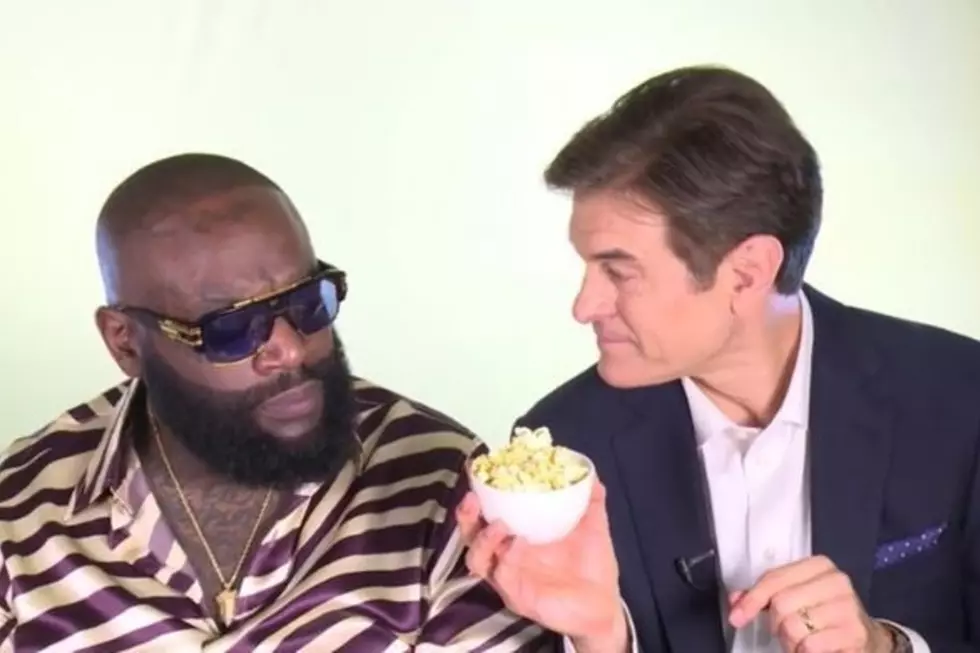 Rick Ross Tries Out New Food With Dr. Oz
Dr. Oz via Facebook
Rick Ross recently stopped by The Dr. Oz Show to promote his new album Rather You Than Me. After the taping, the two went on Facebook Live to participate in a game named after Ross' new LP.
Dr. Oz had Rozay sample a variety of foods the MC never tasted before, such as prickly pears, starfruit and popcorn with nutritional yeast. As part of the game, the Miami rapper let the television host know which items he wanted to try and which ones he'd rather the doctor eat.
Ross' appearance on The Dr. Oz Show will air tomorrow (April 6). The guest spot will hit the airwaves in the wake of Rozay pleading no contest to misdemeanor kidnapping and assault charges for allegedly pistol-whipping his groundskeeper.
The veteran artist was sentenced to five years of probation. He also must attend anger management sessions and refrain from drinking alcohol, using drugs, owning firearms or being in contact with the victims.
Ross' assault case and new album have kept him in the headlines along with his Birdman beef. Last week, the Maybach Music Group boss reiterated his disdain for Birdman during an interview with Atlanta's Hot 107.9.
"If you burn those two [Khaled and Lil Wayne], I already know know how you feel about me, and I just don't respect it," Ross said. "I just felt like it was time for somebody to let homie know that ain't gangsta, and you know, you won't be respected no longer. I won't let nobody respect you around me."
Watch Rick Ross play the "Rather You Than Me" game with Dr. Oz below
Here Are 19 Rappers Going Platinum in 2017