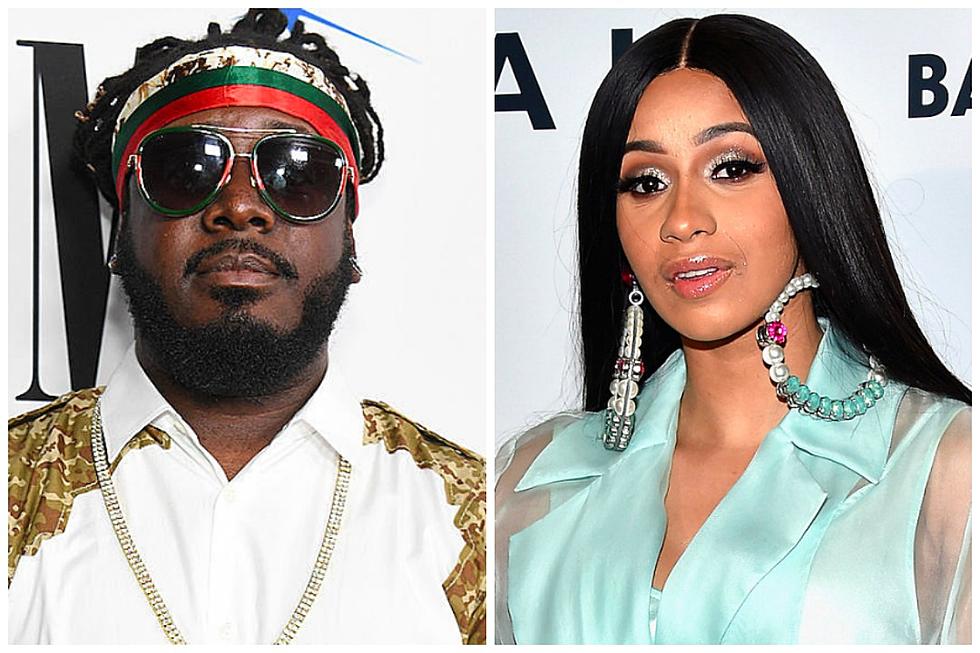 Listen to T-Pain's Remix of Cardi B's 'Bartier Cardi'
Paras Griffin/Mike Coppola, Getty Images
It's springtime and according to T-Pain, that also means that it's officially T-Mix season.
To that end, the singer just dropped a remix to Cardi B's most recent hit, 'Bartier Cardi" teasing the song from none other than his closet.
After he teased the track on Twitter, Cardi B offered her personal stamp of approval, saying that the "Shit Fireeeee." Cardi is reportedly set to drop the video for the song very soon, as she continues to prep her debut album.
But the "Bartier Cardi" remix isn't all that T-Pain has up his sleeve. He elaborated on his remix mission, saying that he plans to do more remixes in the new future, and adding that he wants to do a collaborative project with Joyner Lucas.
"Me and Joyner Lucas just need to go ahead and body the top 12 and get it over with," he wrote on Twitter.
T-Pain released his remix to Kodak Black's "Roll in Peace" back in January, and he most recently teamed up with Rick Ross and Project Baby for "Florida Boy."  His long-awaited album, Stoicville, is due to arrive at some point this year as well.
You can check out T-Pain's remix below.
Unforgettable Mixtapes of the 2000s