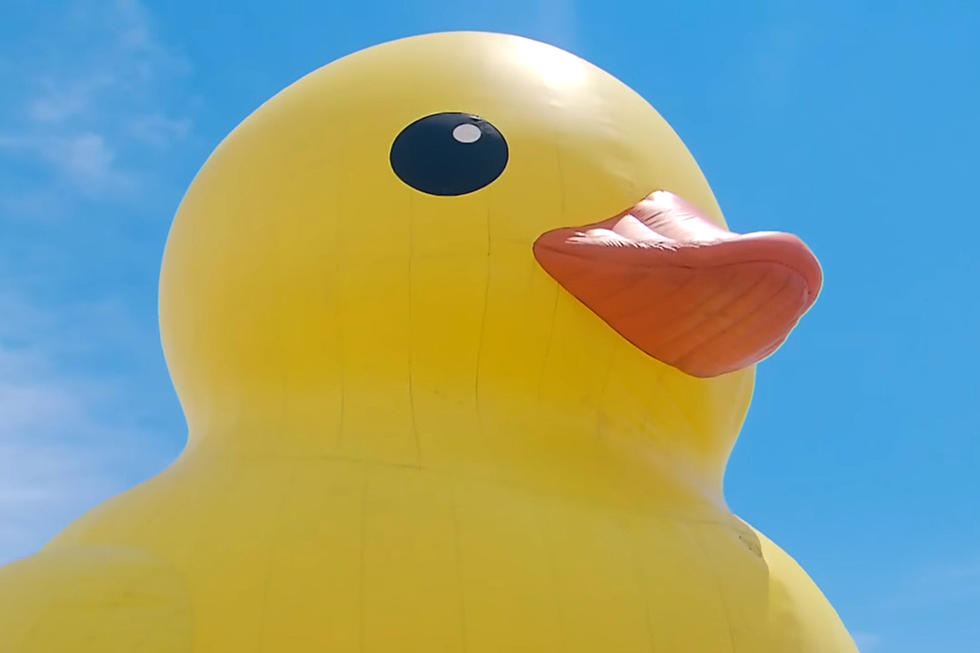 Quacktastic! World's Largest Rubber Ducky Coming to Texas This Summer
CTV News, YouTube
Confession - I love ducks. They're my second favorite animals after dogs, and one of the reasons Miller Park in Temple is my favorite place to spend a Saturday with my dog, Leela. She loves sniffing every blade of grass and treeing squirrels, and I love sitting by the pond and just watching the ducks.
My dream is to someday have a nice little house in the country with a duck pond of my own. Until then, I have my growing rubber duck collection to tide me over.
Since my bosses are determined to make me take time off this summer instead of saving all my vacation days for the winter season (I'm not a summer person at all), I'm trying to make plans to see some some cool stuff in the Lone Star State.
How's this for cool? The world's largest rubber duck is coming to Fort Worth!
Forth Worth Magazine's Samantha Calimbahin reports that the massive mallard will be at Trinity Park from July 23-25 for the #KindnessDuck Party, and she won't be alone. The 6-story tall mama will bring along her 10-foot-tall baby.
The goal isn't just to delight the crowd, but to promote kindness. The free event is all about bringing people together and remind us all that even when the world seems like such a negative place where everyone's divided, we all have basic things in common that should unite us, including or capacity for kindness.
I love it!
Something I don't talk about much in my articles is the fact that I struggle with chronic depression and anxiety. I manage them though, and a big part of that has been my love of ducks. It may seem silly, but watching videos of ducks on YouTube and Instagram and watching them waddle and paddle in real life has a calming and uplifting effect on me.
So, the idea of a giant rubber ducky being a symbol for kindness is just perfect.
Plus, everything is bigger in Texas, right? Mama and her giant baby will fit in just fine here!
Take a look at this video from the time the world's largest rubber duck visited Toronto to get an idea of just how massive mama is.
Test Your Texas: How Many of These Jeopardy! Questions Can You Answer?
Jeopardy! as we know it has been on the air since 1984, but the show got its start way back 1964.
Over the decades, the writers have managed to keep coming up with challenging questions to test the intellectual might of America's best and brightest (and sometimes softball questions for celebrities).
Texas is a place packed with personality, culture, and history, and there've been hundreds of questions/answers about the Lone Star State. Let's take a look at a few recent ones, and keep an eye out because we'll add more soon to test your Texas trivia skills and challenge newcomers.
How many of these can you get right without Googling?
LOOK INSIDE: Marfa's Santa Fe Railroad 'House' Belongs in Temple
Marfa is home to some pretty weird stuff. You've got the famous
Marfa Lights
, the mini
Prada
store, the
Wrong Store
, and
Building 98
, and that's all great, but they've been holding on to something that, in our opinion, belongs here in Temple.
Let's take a look inside this retired Santa Fe caboose. It could use some TLC, but it's in surprisingly good shape. If you've got $254,000 lying around and want to buy this piece of Texas history,
Lauren Meader Fowlkes
with the Odessa Board of Realtors can help you out.
13 Celebrities with Roots in Central Texas
Central Texas knows talent! From musicians and actresses to football players, we list 13 celebrities with roots right here in Central Texas.